One of the first things to consider about Metropolitan is that it's a product of megalomania. Having subdued the cosmos in Aristoi, I decided with my next novel that I was going to fix fantasy.

It's not like anyone asked me to do this. It's not like readers were demanding that I repair their favorite genre. It was just something I decided to do, as a favor to the universe.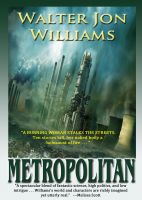 Also posted at
Dreamwidth
, where there are

comment(s); comment here or
there
.